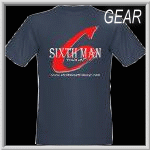 In every team sport the objective of the starting unit is to make sure that the team gets off to a good start over their opponent. In the game of basketball, when the starting unit begins to search for a spark, more stamina and an infusion of energy, the coach looks to the bench to insert a player that will enter the game and infuse the team with leadership, skill, strength and the energy needed ...to pull out the win over the opposing team…that man is the Sixth Man!
With Sixth Man Training our goal is to be your personal sixth man. We are equipped to enter your game of skill development and play preparation by supplying you with the leadership, skill, strength, energy, and especially, the training equipment needed to assist you with the acceleration of your full playing potential. Our products are not invented in a corporate board room…they are invent and developed on the field of battle by the experts in the game.
From coaches, to former high school, college and professional players, to skill development trainers and NBA shooting instructors…our team of experts posses the knowledge, expertise and experience that has led them to invent and implement the most unique and beneficial training products available to today's serious basketball and sports athletes.
As a collective unit our team of experts and their products represent the complete package and we are ready and able to be inserted into your skill development to help you achieve your ultimate goal of playing at the next level. So don't look any further…it's time to insert Sixth Man Training into your personal training regimen.
It's time to train your way to next level!
It's time for the Sixth Man...The best sports and basketball training equipment for today's serious athlete!