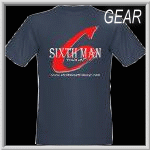 GAME ELEVATION TRAINING SERIES
(SPEED - AGILITY - QUICKNESS - VERTICAL LEAP)

"Game Elevation" Basketball Quickness, Agility, Jumping, and Conditioning is a training and workout book from the basketball series geared towards equipping the player and/or coach with the tools needed to go to the next level. With the "Game Elevation" Q,A,J,C training book in the hand of a player, the player is sure to design, develop, and implement an individual training workout that will help him/her turn their weaknesses into strengths and their strengths into weapons! 30 Total Drills and 112 Variations.