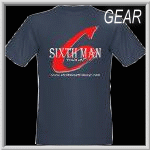 MILLENNIUM SERIES (BALL-HANDLING PT 1)

The Millennium Ball-Handling DVD Volume 1 is a classic within the basketball community. Even though it was shot 6 years ago, it was the pioneer for advanced ball-handling techniques that are currently being used by many to this day. For our DVD Series we use the theme "Millennium" since we firmly believe we have developed the most functional, up to date, and effective ball-handling curriculum on the market. With breakthrough principles and drills such as hand quickness, wrist weight training, full-court continuous patterns, and multi-ball dribbling our goal is to enable you to become more confident and assertive with the basketball.

To fully gain the benefits of our curriculum, it is highly recommended to use wear wrist weight overload training during your workouts.