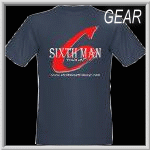 OVERLOAD BANDS (0-BANDS)

O-Bands (Overload Bands) are the "New Age" training aid for developing progressive and functional basketball players. As a trainer you always want to train a player in a: (1) functional setting; and (2) provide an overload resistance in challenging your players current mechanics and power. O-Bands add a new dimension and intensity to your basketball training, instantly transforming ball-handlers to learn proper dribbling positions, while developing increased muscle units to fire during your attack moves to the basket. Also, O-Bands are great for flexibility training, defensive slides or lateral movements, speed training, vertical jump training, as well as, resistance...in addition to weight training exercises.

Can also be used for training in volleyball, soccer, baseball, softball, lacrosse, football, speed and agility, as well vertical leap training.